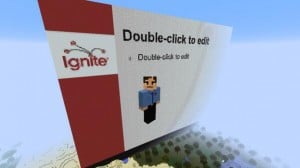 Are you Getting ready to Rock people's minds or have your mind Rocked by our inspiring speakers?
We have another exciting line up also with what might be a world's first – yep a world's first. One of our presenters will be coming at us live from within Minecraft and relaying their presentation to us and it'll be no surprise to you it is Minecraft related.
But enough of this talk of blocks as here is the line up for this Thursday evening 8th May at Leaf Cafe.