.....announcing the latest recruits to the Ignite club at our 11th February event
Read on for the full list of speakers and subjects for our 11th February event.
Speaker: Oliver Kennedy Talk Title:  Debunking the myths of Modern Slavery
Speaker: Neil Simpson Talk Title:  Attention – the magic ingredient. How attention is the tool we use to turn THE universe into OUR universe… @neilsimpson
Speaker: Kate James   Talk Title:  25 weird and wonderful reasons why i love Liverpool….in 5 minutes.
After 3 years as Liverpool's unofficial, 'what's on girl', I've learned a few secrets about this city I call home from the people who make it what it is. From the CEO's to the shop and bar staff, creatives to doctors, footy fans to hotel concierge. Expect revelations about secret time capsules hidden in the Town Hall walls and the truth about the phantom Primark defecator, you'll hear it all here!  @katereillyjames
Speaker:  Craig Kaye Talk Title: "But we've always done it this way"
An Ignite Talk exploring and encouraging Critical Thinking! 
@TheCraigKaye
Speaker: Paul Marrow  Talk Title: Love in a Warm Climate: by contrast to the weather outside on the night, a bit about how love has affected a warmer place (in more than one way)
@evopma
Speaker:Eleanor Senior Talk Title: The cow STI costing America over $200 million.
The parasite Tritrichomonas foetus isn't as famous as other disease causing and carrying organisms such as ticks or tapeworms but this doesn't mean it's less damaging. It also happens to be what I'm studying for my PhD. I am going to talk about what it actually is, what it does and why it could be affecting your pet cat as well as the worlds cows. @eleanorsnr
Speaker: Rachel Burnham   Talk Title: How Sketchnoting can help you learn and work'
This talk will explore what how combining words with simple pictures can be used both in work and to help you be more effective when learning. Sketchnotes create rich notes that are more memorable than traditional notes. They can be used to record notes from meetings and presentations, summarise information, as part of a strategy for revision, to aid reflection and to think things through. You don't need to be an artist to create them at all! But getting started with Sketchnoting can help to unleash your visual creativity. I will share my personal story of 'not being an artist' and how I got comfortable drawing in public. @BurnhamLandD
Speaker:Nina Ali  Talk Title: Being You!
Speaker:Irene Frances Campbell   Talk Title: Women Like Us.
I aim to establish a self awareness, self love organisation. There is a wealth of information out there, however, the breaking down of barriers between women of all cultures and belief systems is my passion. Media misrepresentation of women serves to misinform, and expand the already difficult barriers that women face in contemporary British society. By focusing on the similarities and learning the vast amount of talent every woman has, can be a truly wonderful gift for generations of all Women in years to come.
Speaker: Michelle Peters   Talk Title: Permission to play
Children play anywhere and with anything but adults have a hard time with this, they can be controlling and disrespectful of the children's inherent drive to play. I want to make an argument in favour of saying yes to children, letting them find fun in everyday places, experiencing playful moments wherever they happen to be and not always refused this right which is enshrined within human rights law -UN convention on the rights of the child. @blueybaloo
Speaker: Mark Feltham  Talk Title: We're not sure of Mark's talk title yet but we'll bring you more information on that soon.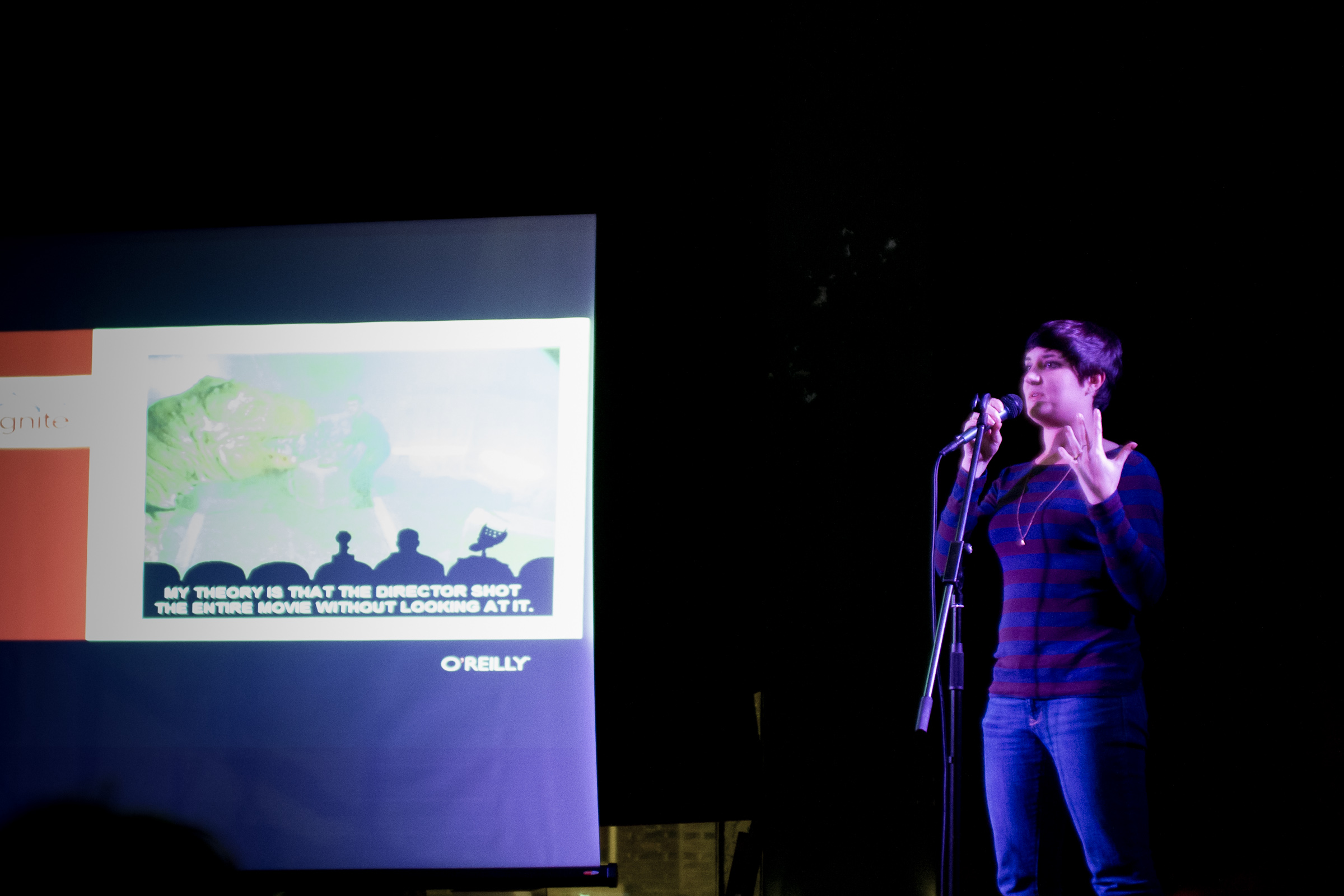 Ignite only happens because of people who are willing to get up and share their passions, be it for a project, an idea or just something they have to tell the world.
FAQ's
Doors Open at 6pm and talks start at 7pm and we normally wrap up by 10pm as it's a work night.
The Venue
Upstairs at Leaf Cafe on Bold Street near the middle of the top half of Bold Street. They have food and drink available so you don't have to dash home for your Dinner. Check the menu for the evening.
Getting there
Buses:
It is best served by the 86, 80 and 82 at the top of Bold Street.
Trains:
Central station is only 5 minutes away at the bottom of Bold Street.
Parking:
Parking is allowed on Bold Street after 6pm and there is usually plenty of spaces. Other parking is available on Duke Street and Mount Pleasant which both have carparks and again are only 5 minutes away on foot.
Cycling:
There are some very handy places to lock your bike on Bold Street in the Square that leads to FACT cinema.
Pitch and Putt at the Break
Don't forget if you have a project that you want to talk about then at the end of the break we have our Pitches section –which gives audience members the opportunity 1 minute to jump up on stage and tell the rest of the world (especially those watching at home) about a great project, event or maybe even just about something they are proud of. We make an announcement about this during the break so listen out.
See you there and may the force be with you.