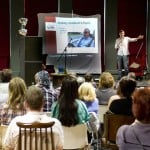 Then why not sign up to present at the mighty fine Ignite nine on 15th March at Leaf Cafe on Bold Street, Liverpool.
We already have some people signed up to present but we could do with a few more new faces on the presentation stage….. you could be a Rock Star for Five minutes and it is heaps of fun.
We can give you loads of information about what is expected of you, the presentation template and even a handy audio template to help you practice – the ideas are yours.
So if you are interested then please get in touch with us and let us know.
Tweet us: @igniteliv
Email us: ignite.liverpool (at) gmail.com
Or use our contact form