.....announcing our speakers for our 10th Birthday event
Read on for the full list of speakers and subjects for our 4th March event.
Speakers: Volume #41

Speaker: Kate Reilly James @katereillyjames
Talk title: What a difference a decade makes
Why 2010 was a year to remember
Speaker: Samantha Jones @Homegrown_Coll
Talk title: Becoming Homegrown
Samantha presents Homegrown Collective and the history and social context that inspired its development. The Homegrown project originally began with exploring ways with which to sustain the 'Rec' – a green public space located just along from Liverpool Football ground. Beginning with redesigning the pocket park entrance and training 26 local people in landscape design and horticulture, an idea grew out of the fortuitous growing of hops onsite. Now the collective run a small local-led brewery using the ingredients grown on the Rec and are working with Homebaked Community Land Trust on the inclusion of their community brewery, social space, garden and pop-up market into the CLT's Oakfield Terrace development. They are also crafting their first Anfield Gin with Turncoat Distillery using locally grown ingredients and launching their Crowdfunder campaign to support the locally led design, production and fit out of the social space and brewery.
Speaker: Paul Marrow @evopma
Talk title: 2020: A New Decade?
In 2020 we are at the 10th anniversary of Ignite Liverpool, but is 2020 the start of a new decade, and what will happen as we look further into the future?
Speaker: Hwa Young Jung @hwayoung
Talk title: Games for change
How we made Probationary: The game of life on licence, a co-produced board game about the lived experience of being on probation. Created with men on probation, probation officers and criminologists.
Speaker: Emma McClure
Talk title: Fussy Eating Fables
The myths of fussy eating and the boy who went blind from eating chips
Speaker: Alistair Houghton
Talk title: The secret streets above your heads – Liverpool's walkways in the sky
Speaker: Chris Brown
Talk title: The Internet has ruined everything.
Speaker: Kathryn Ford
Talk title: Evolutionary Theories of Religion 
Speaker: Tom Williamson
Talk title: The Monty Hall Problem
As part of our birthday celebrations, we will also have a special round of Ignite Karaoke!
We welcome anyone to take to the stage and provide a talk using 20 randomly selected slides from all the talks we've had that evening.
For inspiration, check out what Alex Nursall came up with back in 2013!
FAQ's
Doors Open at 6pm and talks start at 7pm and we normally wrap up by 10pm as it's a work night.
The Venue
Upstairs at Leaf Cafe on Bold Street near the middle of the top half of Bold Street. They have food and drink available so you don't have to dash home for your Dinner. Check the menu for the evening.
Getting there
Buses:
It is best served by the 86, 80 and 82 at the top of Bold Street.
Trains:
Central station is only 5 minutes away at the bottom of Bold Street.
Parking:
Parking is allowed on Bold Street after 6pm and there is usually plenty of spaces. Other parking is available on Duke Street and Mount Pleasant which both have carparks and again are only 5 minutes away on foot.
Cycling:
There are some very handy places to lock your bike on Bold Street in the Square that leads to FACT cinema.
Pitch and Put at the Break
Don't forget if you have a project that you want to talk about then at the end of the break we have our Pitches section –which gives audience members the opportunity 1 minute to jump up on stage and tell the rest of the world (especially those watching at home) about a great project, event or maybe even just about something they are proud of. We make an announcement about this during the break so listen out.
See you there and may the force be with you.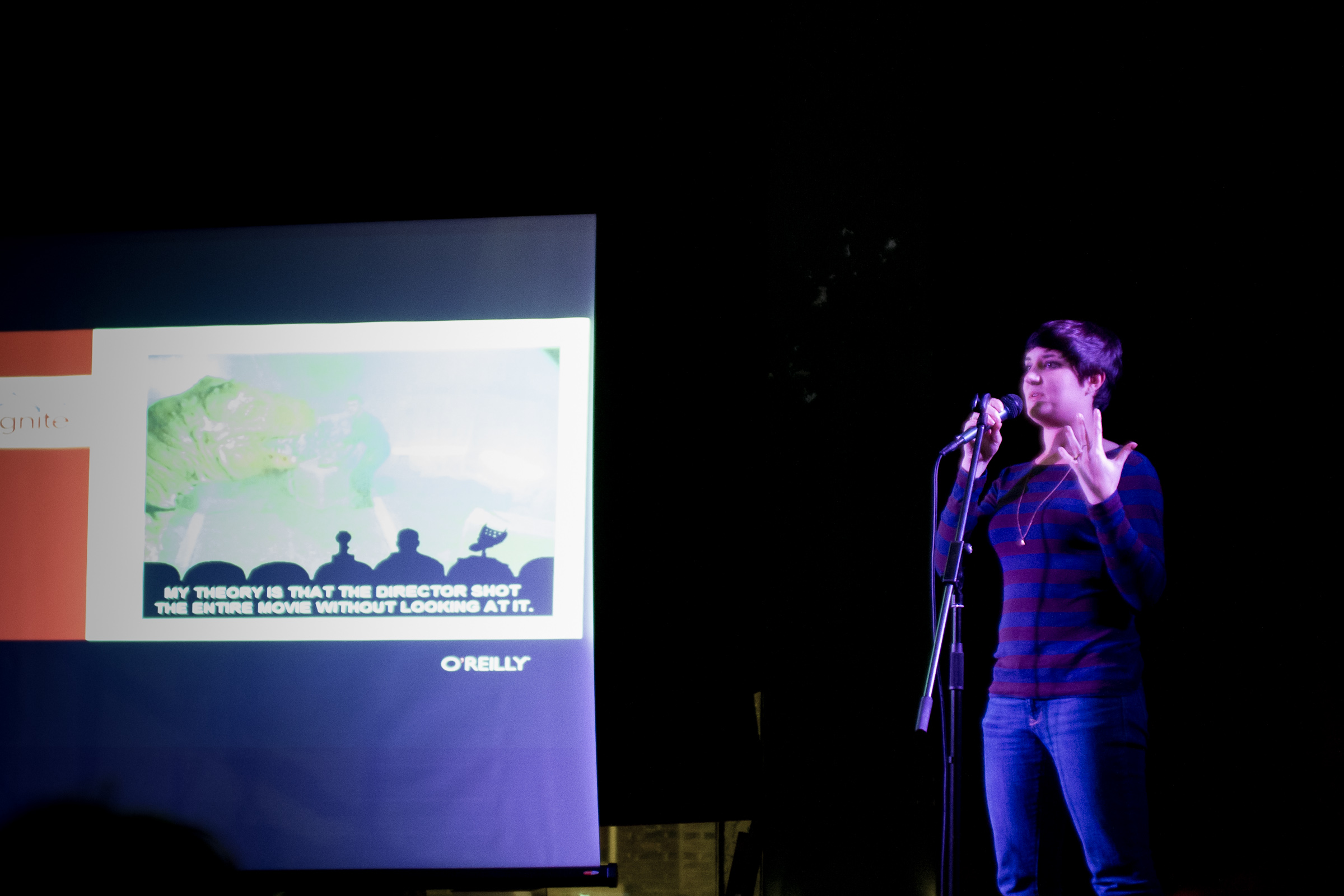 Ignite only happens because of people who are willing to get up and share their passions, be it for a project, an idea or just something they have to tell the world.