Speakers all set to inspire at Ignite Liverpool
Our speakers are all checking their slides, rehearsing their timings and ensuring their vocal cords are in tip top condition for the next encounter of Ignite Liverpool.
We've all had a good rest after the Stars Wars day edition and the Light Night edition so we're really pleased to be able to present the first post Brexit edition. We might be talking about that.
We're here to celebrate right minded people from all walks of life as they talk about their passions, their projects and in some cases their strange habits……. Here's the lineup so far.
Speakers: Volume #26

Speaker: Richard Smedley Talk Title The Triffids Are Already Here – You Just Haven't Noticed
Plants are intelligent and well armed – you have been warned! @RichardSmedley
"I've got some asparagus chewing on my leg"
Speaker: Amanda Follit Talk Title: The business gender gap: Men are the solution
Gender diversity in business is not just a female issue and the talk looks at how men can help and benefit from being aware of  how genders are portrayed in the workplace.
"It's good to see they can be useful"
Speaker: Sarah Jones Talk Title: Why is Formula E the best Motorsport series using social media to interact with its fans?
In this talk, I will be arguing that Formula E is the best Motorsport series currently that embraces, accepts and uses social media to its advantage to keep fans informed and interacted with the series using concepts such as Twitter and FanBoost. @jonesy_laaa
"Social media has its uses"
Speaker: Emma McClure Talk Title: Go away HRA!
We find ourselves with Ms May in Number 10 and she isn't a big fan of the Human Rights Act so hopefully she'll be scrapping it soon… I mean the HRA is only for terrorists and cat-owning illegal immigrants anyway. Isn't it?.  @emmemmemma
Speaker: Savvas Neophytou Talk Title:  Access to finance
An entrepreneur and investor perspective @techsavvas
Speaker: Doug Arnold Talk Title:  A Photons Journey
Astronomy from the perspective of light.
"A talk at the speed of light"

Speaker: Matt Wilson Talk Title: Liverpool Internet Exchange
IX Liverpool and our plans for an internet Exchange in Liverpool and what it could bring to our region. @mattwilson772
Speaker: Christine Unterhitzenberger Talk Title: Why is fairness important in projects?
I will introduce you to the idea of how the perception of fairness influences the performance of projects and why this is important for everyone of us.

Speaker: Paul Marrow Talk Title: Life, the Universe and some Bytes
Nature inspiring Computing. Back in the 60s some computer scientists hung out with folks from other disciplines and realised that things could be done by imitating natural processes (especially evolution) in computers. Of course, that was a long time ago and we, and computers, have come a long way since: I'll mention ants, swarms, immune systems and other sources of inspiration and interest if there is time to cram it in. @evopma
"Let's hope he can keep to 5 minutes"
Speaker: Joao Pedro de Magalhaes Talk Title: The quest for immortality
Joao gave a longer version of this talk at the Light Night event back in May and we're pleased he will be doing it again, this time for a proper ignite audience.
"It will be good to have him back"
Speaker: Olga Cagigas Fojaco  Talk TItle: Burbo Bank Extension
Building an offshore wind farm on the Mersey
Speaker: Luke Walsh  Talk TItle: Planet of the Apps
The danger in the internet of things
"I think our MC is going to enjoy this"
Speaker: Seán Gleeson  Talk TItle: Sea of Hull
My part in the Sea of Hull and quite frankly, there's nothing people like more than lots of naked people.
@spacemonkeylufc
"Let's hope he keeps his clothes on"
Speaker: Tom Williamson Talk Title: A post EU Referendum Rant
A late entry here from @skepticCanary
Speaker: Roberto Venado Talk Title: Mexico: Beyond Cancun, Tacos and Tequila
An overview of the current situation of Mexico. A quick guide to understand its geography, people and politics. @rockbertoVenado
Hopefully at the end of the evening we will be having another Ignite Karaoke
FAQ's
Doors Open at 6pm and talks start at 7pm and we normally wrap up by 10pm as it's a work night.
The Venue
Upstairs at Leaf Cafe on Bold Street near the middle of the top half of Bold Street. They have food and drink available so you don't have to dash home for your Dinner.
Getting there
Buses:
It is best served by the 86, 80 and 82 at the top of Bold Street.
Trains:
Central station is only 5 minutes away at the bottom of Bold Street.
Parking:
Parking is allowed on Bold Street after 6pm and there is usually plenty of spaces. Other parking is available on Duke Street and Mount Pleasant which both have carparks and again are only 5 minutes away on foot.
Cycling:
There are some very handy places to lock your bike on Bold Street in the Square that leads to FACT cinema.
Pitch and Put at the Break
Don't forget if you have a project that you want to talk about then at the end of the break after the first half we have our Pitches section –which gives audience members the opportunity to jump up on stage and tell the rest of the world (especially those watching at home) about a great project, event or maybe even just about something they are proud of in 1 minute. We make an announcement about this during the break so listen out.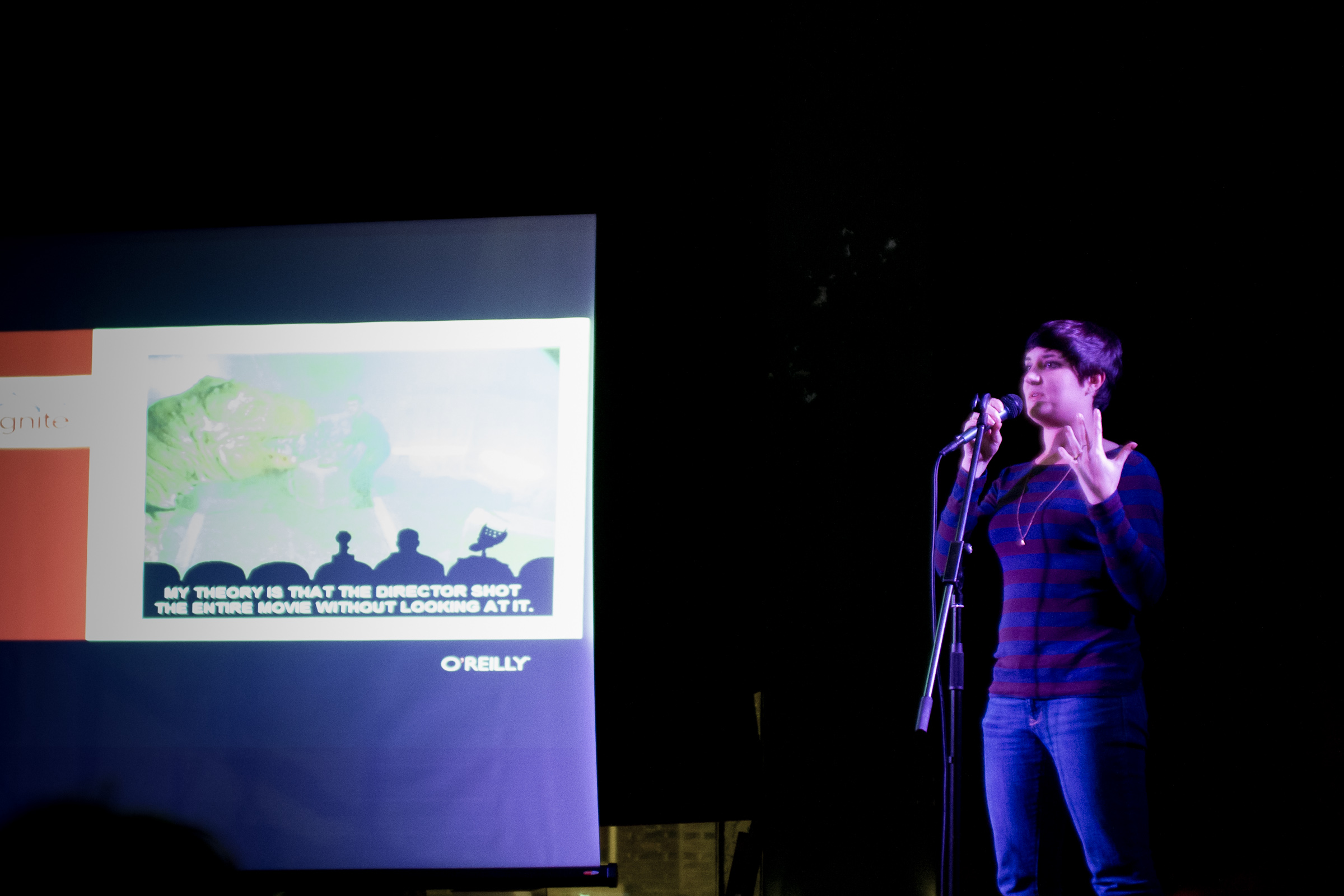 Ignite only happens because of people who are willing to get up and share their passions, be it for a project, an idea or just something they have to tell the world.
Do consider buying a donation ticket to keep Ignite alive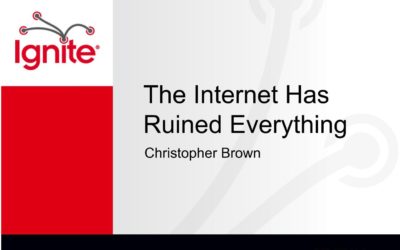 Chris Brown - The internet has ruined everything Ignite only happens because of people who are willing to get up and share their passions, be it for a project, an idea or just something they have to tell the world. Twitter facebook Youtube...
read more