And here is...
….. the line up for our next event on January 27th at Leaf Cafe.
Yes the list is in – it has been checked twice and verified by our team of independent judges from across Europe…
In no particular order; we will be bringing you talks on ….
"Nothing", "No Projects" and "the pursuit of Perfection", admittedly some are less enigmatic than those with an a talk on "How magnetic tape changed the world" which is sure to appeal to the Geeks and the Musos' alike.
Plus a talk on a hatred for Chris Brown!!
Read on for the full list of speakers and subjects for the 27th January event.
Speakers: Volume #24
Speaker: Louise Shannon – Talk Title "The trials and tribulation of getting a gun into the UK"
Louise talks us through the problems of getting the first 3D printed gun into the UK to become part of the collection at the V&A.
Speaker: Chris Brown  – Talk Title "I hate Chris Brown."
You know that Chris Brown? I hate him. "
Speaker: Kevin Harrington  – Talk Title "Get it 80% right: why the pursuit of perfection is unaffordable."
This is an original, 5′ talk less than 20 slides that challenges the audience to get it nearly right and move forward. Perfection is impossible and the ambition unrealistic. Thoughts and examples in a pacy 5 minutes."
Speaker: Alex Worsley – Talk Title  "Nothing"
From selling my first business to almost dying my life has been transformed. Let me share one of my most powerful insights I experienced… be inspired to do… nothing! "
Speaker: Jackie Le Fevre – Talk Title "Aspects of Love – for 27th January"
As Valentines Day approaches many minds turn to thoughts of romance and connection. How much do we know about 'love' per se and what science is there – if any – to the things we notice and how much we love them? Jackie will set out to provide as many answers as can be fitted into 5 minutes and 20 slides.
Speaker: Tom Williamson – Talk Title: "How did the First World War start?"
Tom reassures us there will be flags.
Speaker: Bernard Connor Talk Title: "Magnetic tape changed the 20th century"
In Germany in 1945, Major Jack Mullin made a startling discovery with his eyes and ears that would change the world of entertainment forever.
Speaker: Francis Fish – Talk Title:"No projects"
Projects "create temporary organisation to meet a need" Temporary means that nothing is ever finished and everything is late …"
Speaker: Vincent Prayle – Talk Title: "When you say nothing all."
Posting on social media networks has come under scrutiny recently with regards to privacy concerns (and a general distaste at "over-sharing"), but scaling back on content might not actually be the answer…  A further look at how much information can be gleaned about someone without examining the content of their social media posts.

Speaker: Neil Simpson  – Talk Title: "You Only Have One Job as A Professional Creative – And this is it"
As a professional creative your job is one thing only – create an instant emotional response, to move people, to create love. In your work, in your management, in your entrepreneuriality
If you forget this, then, you are doing it the hard way :)
Speaker: Paul Symes  Talk Title: Working Title: The Citizen App
The talk will be about how we can bring mobile concepts (e.g. apps, Uberfication, sharing economy) and trends such as Big Data and IoT to empower citizens to have more say in how their local area is run and to have greater transparency over what is being done and what is being spent, etc.
AFAIK, the app doesn't exist and the talk will use Liverpool as the basis but the app itself is an idea I've been thinking about for a while and so it would be good to throw it out to a wider audience.
Speaker: Mark Feltham Talk Title: Weird Sex – the second coming
Speaker: Mark Brereton Talk Title: From Graphic Design to Design of the Body, and a little bit of Death in the middle.
My talk describes how and why I decided to change careers from design to Holistic Health Therapist, how they are very similar and how my near death experience was an influential factor.
FAQ's
Doors Open at 6pm and talks start at 7pm and we normally wrap up by 10pm as it's a work night.
The Venue
Leaf Cafe is based on Bold Street near the middle of the top half of Bold Street. They have food and drink available for you don't have to dash home for Dinner.
Getting there
Buses:
It is best served by the 86, 80 and 82 at the top of Bold Street.
Trains:
Central station is only 5 minutes away at the bottom of Bold Street.
Parking:
Parking is allowed on Bold Street after 6pm and there is usually plenty of spaces. Other parking is available on Duke Street and Mount Pleasant which both have carparks and again are only 5 minutes away on foot.
Cycling:
There are some very handy places to lock your bike on Bold Street in the Square that leads to FACT cinema.
Pitch and Put at the Break
Don't forget if you have a project that you want to talk about then at the end of the break we have our Pitches section –which gives audience members the opportunity 1 minute to jump up on stage and tell the rest of the world (especially those watching at home) about a great project, event or maybe even just about something they are proud of. We make an announcement about this during the break so listen out.
See you there!!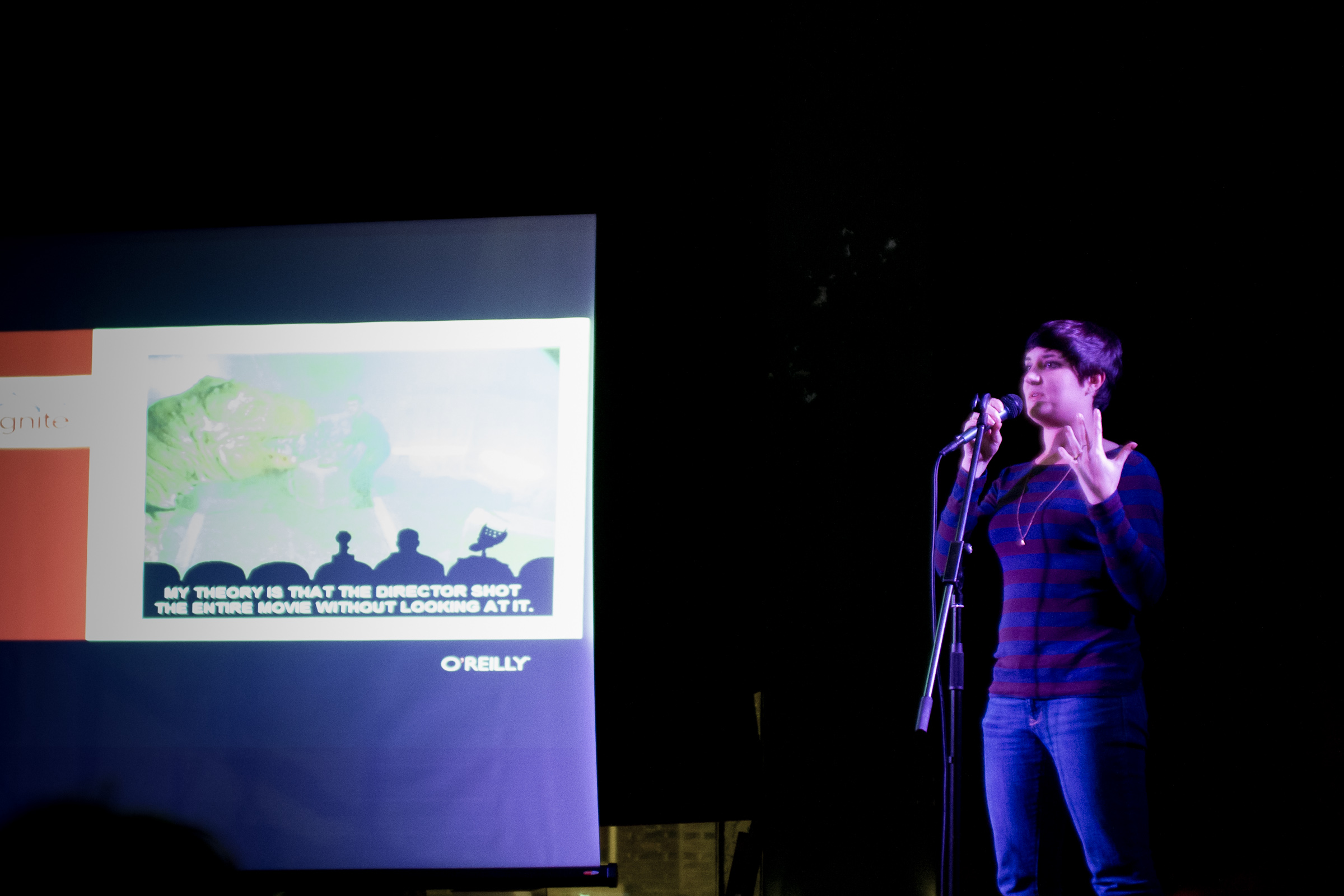 Ignite only happens because of people who are willing to get up and share their passions, be it for a project, an idea or just something they have to tell the world.