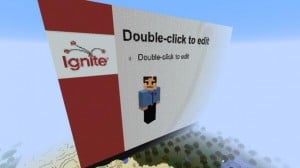 Are you Getting ready to Rock people's minds or have your mind Rocked by our inspiring speakers?
We have another exciting line up also with what might be a world's first – yep a world's first. One of our presenters will be coming at us live from within Minecraft and relaying their presentation to us and it'll be no surprise to you it is Minecraft related.
But enough of this talk of blocks as here is the line up for this Thursday evening 8th May at Leaf Cafe.
Kathryn Ford – What can birds teach us about Mr T?
Adam Clarke – Minecraft Expanded Horizons
Carl Roper – Why we need trade unions more than ever.
The gap between the wealthiest and the rest of society is growing wider. Work is becoming more insecure and less rewarding. Less of our national wealth is going towards wages that working people put back into the economy. How do we fix this?
Jessica Rose – Imposter Syndrome: You're a fraud, just like everyone else
Ian Parry – When I grow up…
How education is shifting from raising aspiration to brokering aspiration.
Tom Williamson – Changing times, changing countries, changing flags.
Mark Brereton – The Dangers of Meeting People Online
Plus there will be the obligatory Ignite Karaoke at the end of the evening made up of slides form the previous talks and don't miss your chance to get up and plug your event or group at the half time bell.
We'll also be bringing you news about the Ignite Me session to be held as part of the Liverpool Science Festival in conjunction with Liverpool UTC – giving young people the chance to share their passions about science on the 29th June.
You can book tickets below for FREE…..
FAQ's
The Venue
Leaf Cafe is based on Bold Street near the middle of the top half of Bold Street. They have food and drink available for you don't have to dash home for Dinner.
Getting there
Buses:
It is best served by the 86, 80 and 82 at the top of Bold Street.
Trains:
Central station is only 5 minutes away at the bottom of Bold Street.
Parking:
Parking is allowed on Bold Street after 6pm and there is usually plenty of spaces. Other parking is available on Duke Street and Mount Pleasant which both have carparks and again are only 5 minutes away on foot.
Cycling:
There are some very handy places to lock your bike on Bold Street in the Square that leads to FACT cinema.