.....announcing our new converts to the Ignite club at our 18th November event
Read on for the full list of speakers and subjects for our 18th November event.
Speakers: Volume #40
Speaker: Thomas Richardson @richie_research
Talk title: How the sex ratio influences our behaviour
A factor that is always present and can influence our behaviour in surprising ways – the sex ratio! We often talk about the perils of an environment dominated by one sex, such corporate boards dominated entirely by men. But did you know the sex ratio influences the behaviour of many animals? Thomas takes us through the evidence that sex ratio imbalances can impact our behaviour in a wide variety of ways and how evolutionary biology may hold the key to understanding how it affects us today.
Speaker: Matthew Walker
Talk title: A volunteer's guide to music festivals
Speaker: Jenny Radcliffe
Talk title: Security Actually
Speaker: Professor Danny Dresner @DanielGDresner
Talk title: Oh what a lovely cyber war!
How Matthew Broderick got us into this mess and how the Home Guard is going to save us all. (Because cyber security is all about cookies, the type with chocolate chips).
Speaker: Richard De Vere @antisocial_eng
Talk title: Social Engineering
Speaker: Ian Thornton-Trump @Phat_Hobbit
Talk title: God hates your IT systems
Speaker: Vincent Prayle @spider2097
Talk title: Facebook's relationship with relationships
An updated version of a previous presentation.
Speaker: Edward Tucker @teddybreath
Talk title: Dislocated security is a recipe for disaster.
Highlighting the problem of dislocated security teams, processes and technological solutions, which leads to a massively sub-optimal approach, and how with a few simple tweaks this can be turned into an area of strength.
Speaker: Stuart Coulson @SPCoulson
Talk title: Software Developers need to make Cheese on Toast!
Speaker: Simon Blackmore @blackmore_s
Talk title: Food & Agriculture Disruption
Clean Meat… Wave Bye Bye Cattle Farming.
Speaker: John Wright
Talk title: A legal mix-up: the time I was arrested for the theft of a cement mixer (without concrete evidence)
In 2002 I was arrested and charged with the theft of a cement mixer. This is a cautionary tale about what can happen when faith in the human condition turns out to be misplaced.
Speaker: Libby van Tonder @van_libby
Talk title: It's just brain surgery
FAQ's
Doors Open at 6pm and talks start at 7pm and we normally wrap up by 10pm as it's a work night.
The Venue
Upstairs at Leaf Cafe on Bold Street near the middle of the top half of Bold Street. They have food and drink available so you don't have to dash home for your Dinner. Check the menu for the evening.
Getting there
Buses:
It is best served by the 86, 80 and 82 at the top of Bold Street.
Trains:
Central station is only 5 minutes away at the bottom of Bold Street.
Parking:
Parking is allowed on Bold Street after 6pm and there is usually plenty of spaces. Other parking is available on Duke Street and Mount Pleasant which both have carparks and again are only 5 minutes away on foot.
Cycling:
There are some very handy places to lock your bike on Bold Street in the Square that leads to FACT cinema.
Pitch and Put at the Break
Don't forget if you have a project that you want to talk about then at the end of the break we have our Pitches section –which gives audience members the opportunity 1 minute to jump up on stage and tell the rest of the world (especially those watching at home) about a great project, event or maybe even just about something they are proud of. We make an announcement about this during the break so listen out.
See you there and may the force be with you.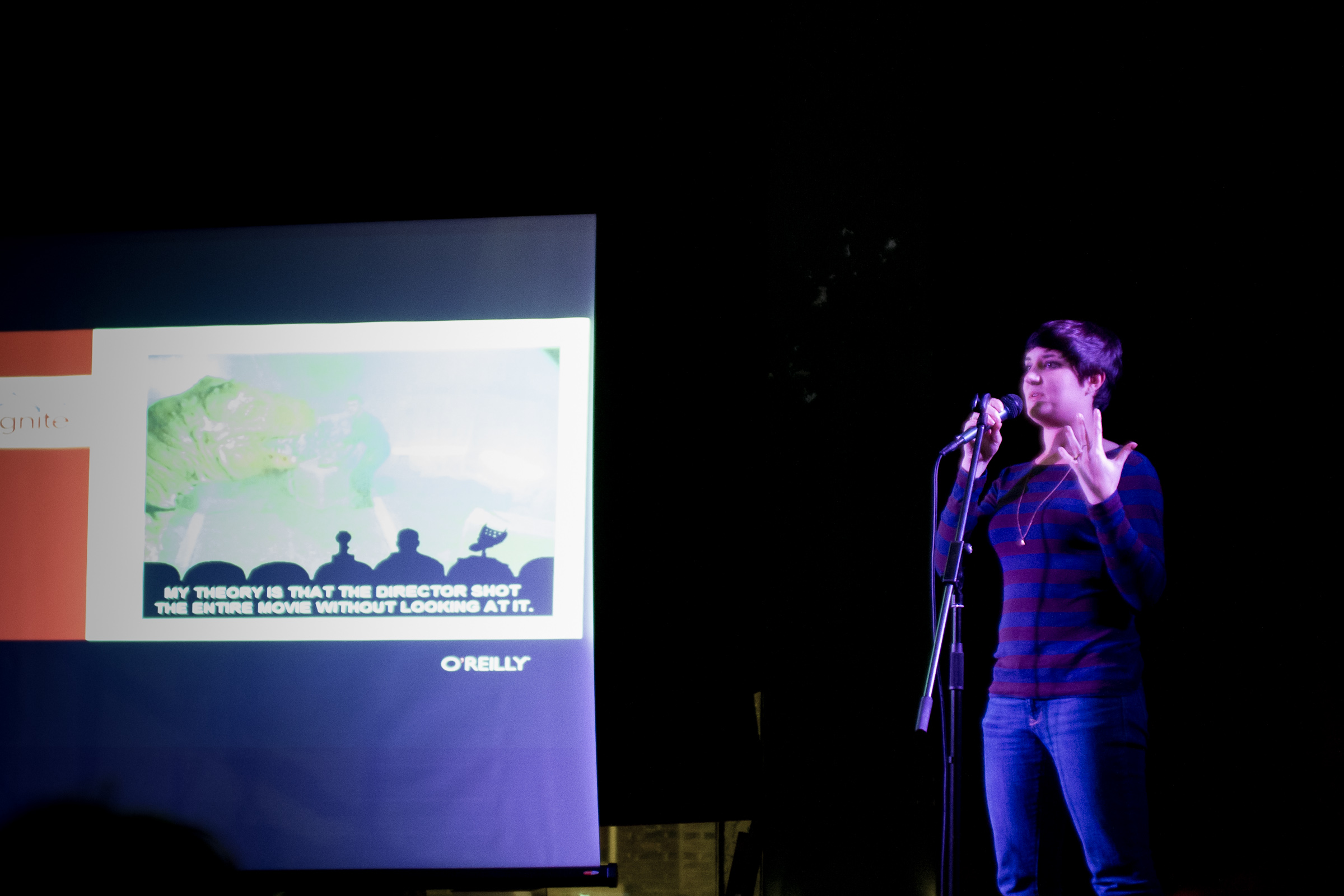 Ignite only happens because of people who are willing to get up and share their passions, be it for a project, an idea or just something they have to tell the world.