.....announcing the latest recruits to the Ignite club at our 19th September event
Read on for the full list of speakers and subjects for our 19th September event.
Speaker:David C Frazer Talk Title:  Any colour you like.
@doctorfraz
Speaker:Patrick Stuart  Talk Title:  The Wapentake of Wirral.
In the middle of the 19th Century a corrupt solicitor got his hands on the documents for a legal court from the end of the dark ages. The Wapentake. Though its powers had lessened over the years, it was still a valid legal court. He used its powers to roam around the Wirral treating the court as a moveable street gang, demanding payments and sentencing people to contempt. This will be a brief history of those events.
Speaker:Helen Campbell   Talk Title:  Gauchos, romance and coups; the hidden history of Argentine tango
Speaker: Jean Jacques Sillito  Talk Title: Engaging the community through both fitness and litter
Speaker:Pamela Langan  Talk Title: Growth Mindset and Harnessing the Law of Attraction to achieve your goals.
Life moves so fast, so many people feel unfulfilled and unsure how to make a positive change. This talk is about helping people to understand if you always do what you've always done, you'll always get the same result. After 5 mins you'll be ready to step out of your comfort zone and start on your journey to achieve your goals.
Speaker: Lydia Cole  Talk Title:  The Three Ps
I will talk about the connection between peanut butter, palm oil and peat. Palm oil is found in around half of all of the packaged products you find in supermarkets, peanut butter included. It comes from plantations of oil palms, which are spreading rapidly across the Tropics. Large areas of the land it is expanding into was covered in tropical bogs. I will talk a bit more about bogs, i.e. peatlands (my passion!), and the connection between what we eat on our morning toast and the loss of orangutan habitat in the Tropics.
@lydcole
Speaker: Jackie Pease  Talk Title:  Making with Kombucha
Some interesting facts about Kombucha, plus details of a recent project at DoES Liverpool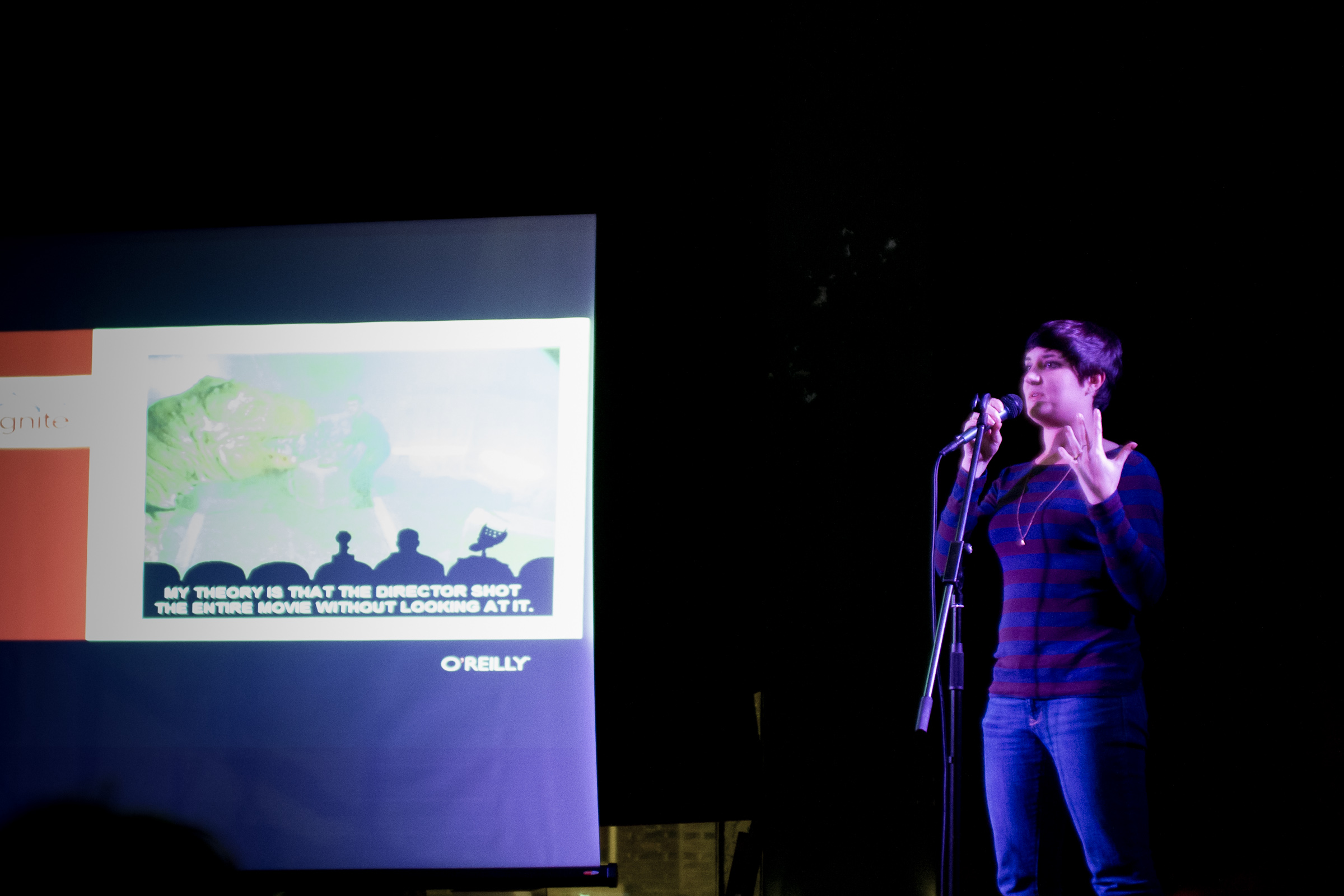 Ignite only happens because of people who are willing to get up and share their passions, be it for a project, an idea or just something they have to tell the world.
FAQ's
Doors Open at 6pm and talks start at 7pm and we normally wrap up by 10pm as it's a work night.
The Venue
Upstairs at Leaf Cafe on Bold Street near the middle of the top half of Bold Street. They have food and drink available so you don't have to dash home for your Dinner. Check the menu for the evening.
Getting there
Buses:
It is best served by the 86, 80 and 82 at the top of Bold Street.
Trains:
Central station is only 5 minutes away at the bottom of Bold Street.
Parking:
Parking is allowed on Bold Street after 6pm and there is usually plenty of spaces. Other parking is available on Duke Street and Mount Pleasant which both have carparks and again are only 5 minutes away on foot.
Cycling:
There are some very handy places to lock your bike on Bold Street in the Square that leads to FACT cinema.
Pitch and Put at the Break
Don't forget if you have a project that you want to talk about then at the end of the break we have our Pitches section –which gives audience members the opportunity 1 minute to jump up on stage and tell the rest of the world (especially those watching at home) about a great project, event or maybe even just about something they are proud of. We make an announcement about this during the break so listen out.
See you there and may the force be with you.