Ignite at Makefest Liverpool 30th June 2018
At Liverpool Makefest this year Ignite we presented a series of short talks and discussions on issues facing the Maker Community
Ignite sessions
At Liverpool Makefest we thought we would take the opportunity to examine some of the issues that have been raised over the years at our regular Ignite event, but with a maker theme.
Each themed session consisted of two or three short 5 minute presentations from our speakers who then faced the audience for a Question and Answer opportunity to dig into the detail.

11am From STEM to STEAM and beyond. How is education changing to incorporate more tech and maker skills.
Caroline Keep – Making in the National Curriculum
Tanya Fish – Electronics for the Uninitiated – an updated version of the talk I did for HDDG in San Francisco. I am an ex teacher and I work for Pimoroni doing outreach and education.
Pat Link – From STEM to STEAM and beyond. How is education changing to incorporate more tech and maker skills.
You missed it so here is the embed
12 noon  Awesome Liverpool Pitches
Projects who have submitted to Awesome Liverpool for £500 will be giving their pitches to the Awesome Judges.
1pm This session examines the roles of diversity in the modern digital workplace.  A look at socioeconomic backgrounds and more.
Michael Van Der Velden Disabilities and Tech
Helen Stephens How making can reach those people who are digitally excluded better than the same old basic IT courses that continually get rolled out.
Dr John Patterson Engaging visually impaired(vi)young people in sports and STEM from a Liverpool 'education and enterprise village' in tackling staggeringly high unemployment rates
You missed it so here is the embed
2pm This session will examine how to move your business from small time maker to big time manufacturing and distribution.
Adrian McEwen Indie manufacturing
Luke Walsh  Electronics manufacturing in Liverpool
Jackie Pease Maintenance and Making – what is maintenance? How to value work that is invisible when done well
You missed it so here is the embed

3pm How to start a community and grow your community
Carwyn Edwards The story of how we created North Wales Tech, a tech/maker community for North Wales
Channel Thomas Open sourcing education for all – Open source taught me everything I know when education would not give me a path to follow.I now run a bio lab here in Copenhagen , have just got a fellowship for MIT and will be teaching open source biohacking in Mexico, Peru and Ecuador this July/August.
You missed it so here is the embed

4pm Our final three talks of the day
Jo Hinchliffe – Space Progress in the democratisation of opensource space, to encourage more people to get involved with rockets! I have links to the Libre Space Foundation and sit on the UK rocketry council.. Through the former and other communities I see lots of provision for groundstation projects (like LSF's global network) opensource designs for satellites etc but this is not parralelles in rocketry. We have the fantastic copenhagen suborbitals but their amazing project is not published as opensource anywhere. Fed up of feeling like the only crazy dancer on the dance floor I'll provide an entertaining and accessible talk aiming to get more people enthused and involved.
Paul Furley A look at how in 21st Century Britain we should be thinking about our personal privacy and security.
You missed it so here is the embed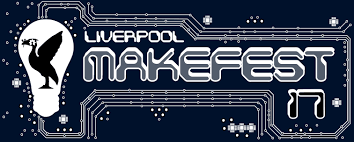 MAKERS OF ALL TYPES SHOWCASING SCIENCE, TECHNOLOGY, SOUND AND MUSIC, ART, CRAFTS, CREATIONS, INVENTIONS AND GADGETS. HANDS-ON ACTIVITIES, RANGING FROM CODING TO CRAFTS!
The how's and wherefores for Ignite Features…
We'll be adding more information here for speakers and the audience at this event as time goes by.
Times?
Ignite features… will take place between 10am and 4pm on the 30th June at Liverpool Makefest
Timetable?
As we get closer to the day then we will produce a timetable for the themed sessions.
Each session should take approximately 30 minutes.
Presentations?
These will follow the Ignite format of being 5 minutes long using exactly 20 slides.
Getting cover for your stand?
If you have a stall at Makefest then we will be able to arrange cover for it while you are attending.