.....announcing our new converts to the Ignite club at our 17th May event
Read on for the full list of speakers and subjects for our Global Ignite Week event on 17th May.
Speakers: Volume #30
Speaker: Aaron Ellis Talk TItle: Can entrepreneurs change politics more than politicians can?
@AaronHEllis
Speaker: Christopher Brown Talk TItle: Shah Rukh Khan is stealing my wife.
@orange_monkey
Speaker: Phillip Watson Talk Title: Why we foster?
@philwatson184
Speaker: Naneh Hovhannisyan Talk Title: A Tale of Doubles: Existing Across Cultures
My talk is centred around the theme of identity. As someone who was born a citizen of a country that doesn't exist anymore, grew up bilingual, then emigrated to a third country, I share my experience of belonging to that in-between place across borders. The talk carries a positive message about some of the gifts of this situation.
@Naneh_V_H

Speaker: Doug Arnold Talk Title: The counter intuitive nature of cycle safety, and why Chris Boardman is my hero.
After a decade of cycling in different countries, clothes and states of mind, my perceptions of cycling have changed rapidly, now reaching cycling zen. Cycling is undoubtably 'a good thing', yet why are there so many misconceptions, toxic shit-stirring and victim blaming when it comes to the idea that roads are not just for cars??
Speaker: Richard Smedley Talk Title: Money, myths, and thinking about, er, Money
@Richardsmedley
Speaker: Kiron Reid Talk Title: Money, myths, and thinking about, er, Money
I've spent much time in Ukraine over the last nearly three years and have become quite a fan. Not many people in Britain know much about Ukraine and I try to tell them what it is really like – the good and the bad, the unusual stuff and the normal stuff.
Speaker: Jackie Le Fevre Talk Title: Ten things that you may not know about Ukraine
What if we could decode the elements of inspiration? What if knowing the code meant we could deliberately create the conditions to be inspired? What if we need never be lost for inspiration again? Take a gallop through the research on inspiration and marvel as the recipe is revealed. @MagmaEffect
Speaker: Michael Marshall Talk Title: Bad PR: Advertising gone native
A look at native advertising/sponsored content in the mainstream news, its links to clickbait, and how it compares to PR generally.
@MrMMarsh
Speaker: Vince Prayle Talk Title: Living In A Bubble
Plato & Aristotle had a conversation about abstract concepts…
@

spider2097
Speaker: PJ Smith Talk Title: Obstacles into opportunities.
It's going to be about how some of the most painful experiences in life can be turned into something purposeful.
@badwool9
Speaker: Michael McDonnell Talk Title: Practical Lifestyle Design
Tools that you can use to actively design your life in a way that helps you rather than hinders you.
@M_McDonnell2
Speaker: Priyadarshana Jain Talk Title: Life after being motherhood: How life changes after becoming a parent and the way we can deal with this disaster
Speaker: Tom Williamson Talk Title: Tom Williamson is wrong
A talk not about flags but there is bound to be one slipped in somewhere. @skepticCanary

Hopefully at the end of the evening we will be having another Ignite Karaoke if we get the time that is
FAQ's
Doors Open at 6pm and talks start at 7pm and we normally wrap up by 10pm as it's a work night.
The Venue
Upstairs at Leaf Cafe on Bold Street near the middle of the top half of Bold Street. They have food and drink available so you don't have to dash home for your Dinner. Check the menu for the evening.
Getting there
Buses:
It is best served by the 86, 80 and 82 at the top of Bold Street.
Trains:
Central station is only 5 minutes away at the bottom of Bold Street.
Parking:
Parking is allowed on Bold Street after 6pm and there is usually plenty of spaces. Other parking is available on Duke Street and Mount Pleasant which both have carparks and again are only 5 minutes away on foot.
Cycling:
There are some very handy places to lock your bike on Bold Street in the Square that leads to FACT cinema.
Pitch and Put at the Break
Don't forget if you have a project that you want to talk about then at the end of the break we have our Pitches section –which gives audience members the opportunity 1 minute to jump up on stage and tell the rest of the world (especially those watching at home) about a great project, event or maybe even just about something they are proud of. We make an announcement about this during the break so listen out.
See you there and may the force be with you.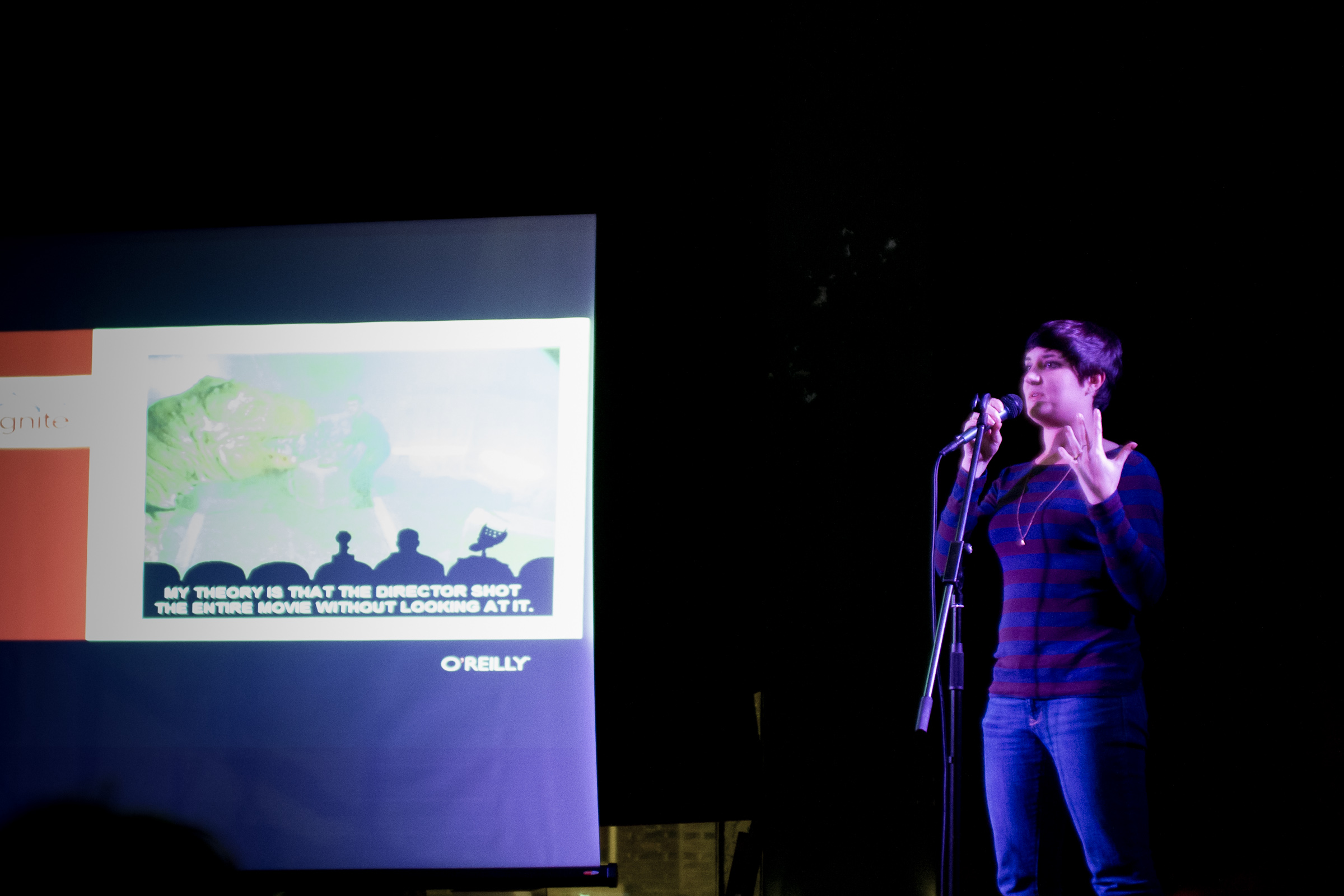 Ignite only happens because of people who are willing to get up and share their passions, be it for a project, an idea or just something they have to tell the world.