Speakers all set to inspire at Ignite Liverpool
It is our great pleasure to be able to bring together such a rich diversity of talented speakers for an evening of cerebral stimulation.
Our speakers are all checking their slides, rehearsing their timings and ensuring their vocal cords are in tip top condition for the next encounter of Ignite Liverpool.
Celebrating people from all walks of life as they talk about their passions, their projects and in some cases their strange habits…….
Here's the lineup so far.
Speakers: Volume #27
Speaker: Kate Reilly James Talk TItle: Because Exposure isn't so Delicious
I've recently qualified as a journalist and as a single parent of three I've been unable to work for free/exposure as so many are expected to do, in an attempt to build a portfolio. I believe no one should work for free. Put simply, I cannot feed my children, nor can I flog myself for exposure that has no guarantee of a job. I believe there needs to be a change in attitudes within the industry to stop creative minds being put off a career in the arts and media.  @katereillyjames
Speaker: Olga Bednarski Talk TItle: Killing my dragon
Talk about stammering (think The Kings Speech), what it is, how it affects peoples lives, emotional turmoil associated with it. The talk incorporates my personal story-journey of overcoming my stammer aka dragon, starting from being a very reserved person dreaming about public speaking to conquering my stammer and now living a life of a public speaker. Inspirational talk for anyone who still think phobias/fears are impossible to beat, whatever they might be!
Speaker: Colin Coleman Talk TItle: Journeys That Never End About
The talk reflects on the life lessons that can be learnt from the most unexpected places. Using a range of photographs (taken by the speaker) he identifies how many of the simple things we do in life can have great meaning, resonance and impact. The examples given are cross-cultural and reflect the diverse planet we live on. @colincolemanuk
Speaker: Michael McDonnell Talk TItle: How you decide to not succeed. How you decide to play small.
My presentation would be about how your brain influences decision making and how a lot of the things that we do, we do without thinking. @M_McDonnell2
Speaker: Christopher Brown Talk TItle:
Everything I learned from watching Groundhog Day 12 times in a row.
@orange_monkey
Speaker: Aidan McGuire Talk Title: On the Inside
An introduction to the Humanitarian Data Exchange humdata.org
@amcguire62
Speaker: David Frazer Talk Title: My contribution to Liverpool Biennial
The Guerilla art I made and added to the biennial and the philosophy of 'what is art?' @doctorfraz
Speaker: Ali Harwood Talk Title What's ten-year-old punctuation?
As an artist and primary school teacher (for well over a decade), I'd like to share with an adult audience in a whistlestop and entertaining way, the path to be 'secondary ready' with semi-colons and their punctuation pals. @HarwoodAliArt

Speaker: Sarah Jones Talk Title: 5 reasons to watch the FIA Formula E Championship
With 5 simple reasons (will include some funny wit), I will state my case why people should watch the Formula E Championship @jonesy_laaa

Speaker: Alexandra Alexandrova Talk Title: "Particle accelerators are out there.. "
Do you know any particle accelerators? CERN? Do you know that there are more than 30,000 accelerators around a world. It is a bit unexpected number, isn't it? Would you like to know what they are used for? and what kind of cool thing are done with it the world? I am here to talk about it and to tell you everything you would like to know about Particle Accelerator in our Society and how beneficial they are. @alexlaserLight
Speaker: Jenny Radcliffe Talk TItle: How Liverpool helped make me a "People Hacker"
I am a Social Engineer, a no-tech hacker of human beings. Growing up in Liverpool, gave me a particular set of skills, skills that I now use to break into banks, hack all the people and keep out the bad guys! This talk links my current career to my Liverpool childhood AND gives tips on how to avoid being personally and professionally people hacked!! @Jenny_Radcliffe
Speaker: Euan Withersby Talk Title: Processing the Past.
How tech is helping to interpret our historical environment for the digital age and the challenges we face in passing on these interpretations to future generations. @SkapaCreate
Speaker: Paul Marrow Talk Title: "Much Ado About 0".
You might think that the number zero is uninteresting and that there is not material to fill five minutes. I will look at the history of mathematics and science and prove you wrong. @evopma
Speaker: Sarah Farmer Talk Title: 10 incredibly interesting facts about dentistry
My top 10 favorite dental facts – both medical, and historical including odontomes, Waterloo dentures, tooth development, hyper and hypodontia, and why people thought worms lived in teeth. @wilikins
Speaker: Liz Ashall-Payne Talk Title: Giving Apps a Health Check.
Designed to improve our health, but how do we know which are safe and can be trusted. @LizAshallPayne
Speaker: Jason Jones Talk Title: TBA
A talk about all the things I managed to do without anyone realising I am Autistic, inc 10 years in the Army, and working as a Senior Public Servant @skepticsmashtalk
Speaker: Sugar and Dice Talk Title: The Board gaming revolution
A talk about awesome modern board games and why we love them! @Sugaranddice
Speaker: Mike Fahy Talk Title: Street photographer based in Liverpool
Making art from catching people on the street doing everyday things
Speaker: Tom Williamson Talk Title: What is going on at the Liverpool Womens Hospital
A late entry here from @skepticCanary
Hopefully at the end of the evening we will be having another Ignite Karaoke
NB: If your name's not on the list and you think in should be then get in touch.
FAQ's
Doors Open at 6pm and talks start at 7pm and we normally wrap up by 10pm as it's a work night.
The Venue
Upstairs at Leaf Cafe on Bold Street near the middle of the top half of Bold Street. They have food and drink available so you don't have to dash home for your Dinner.
Getting there
Buses:
It is best served by the 86, 80 and 82 at the top of Bold Street.
Trains:
Central station is only 5 minutes away at the bottom of Bold Street.
Parking:
Parking is allowed on Bold Street after 6pm and there is usually plenty of spaces. Other parking is available on Duke Street and Mount Pleasant which both have carparks and again are only 5 minutes away on foot.
Cycling:
There are some very handy places to lock your bike on Bold Street in the Square that leads to FACT cinema.
Pitch and Put at the Break
Don't forget if you have a project that you want to talk about then at the end of the break after the first half we have our Pitches section –which gives audience members the opportunity to jump up on stage and tell the rest of the world (especially those watching at home) about a great project, event or maybe even just about something they are proud of in 1 minute. We make an announcement about this during the break so listen out.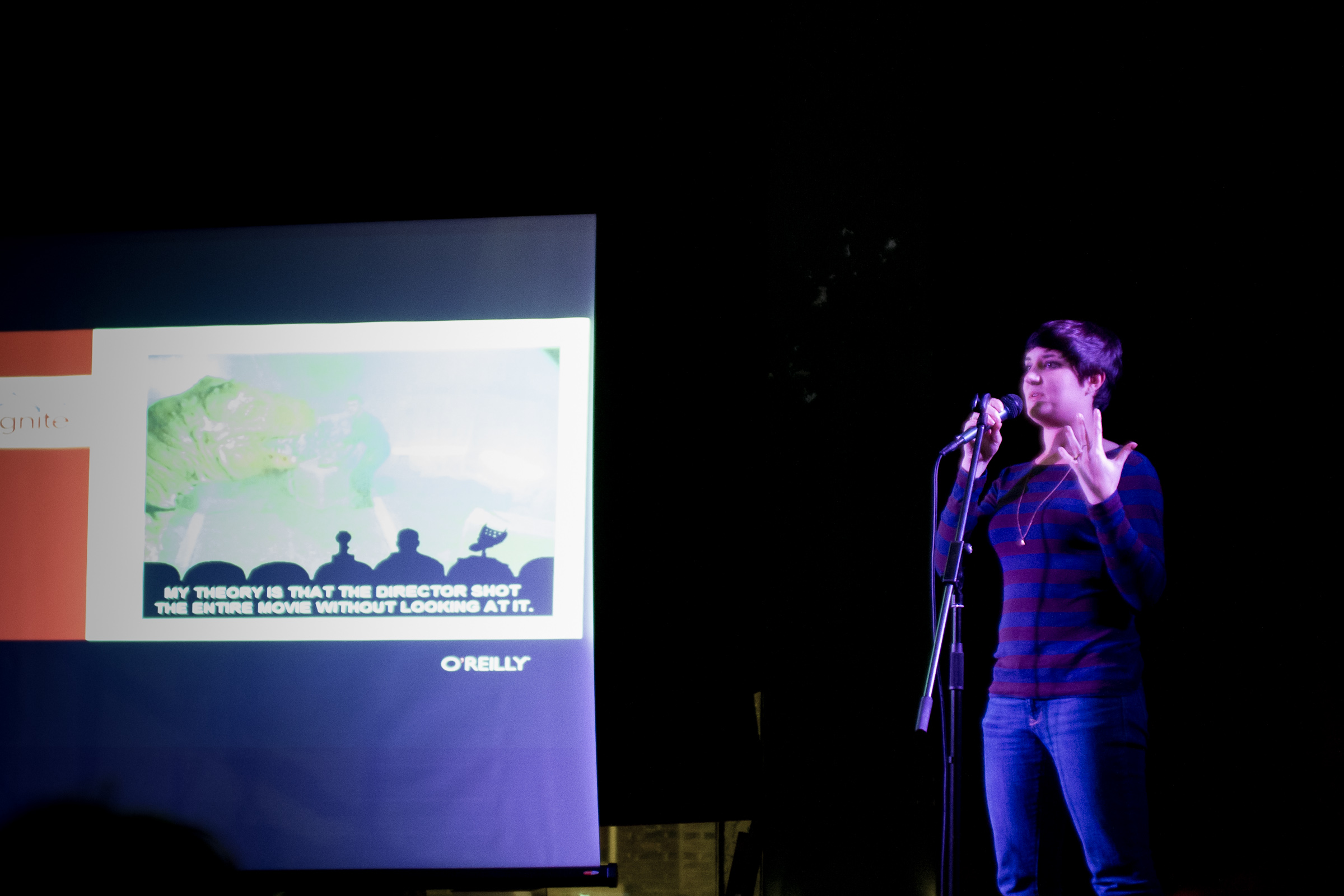 Ignite only happens because of people who are willing to get up and share their passions, be it for a project, an idea or just something they have to tell the world.